More and more people are fed up with the current healthcare system that only addresses symptoms and relies too heavily on prescription medication. As a result, doctors and patients are increasingly turning to a new, personalized model of medicine known as Functional Medicine. As a functional medicine doctor in Overland Park, we're bringing you more information on the topic so you understand your healthcare options.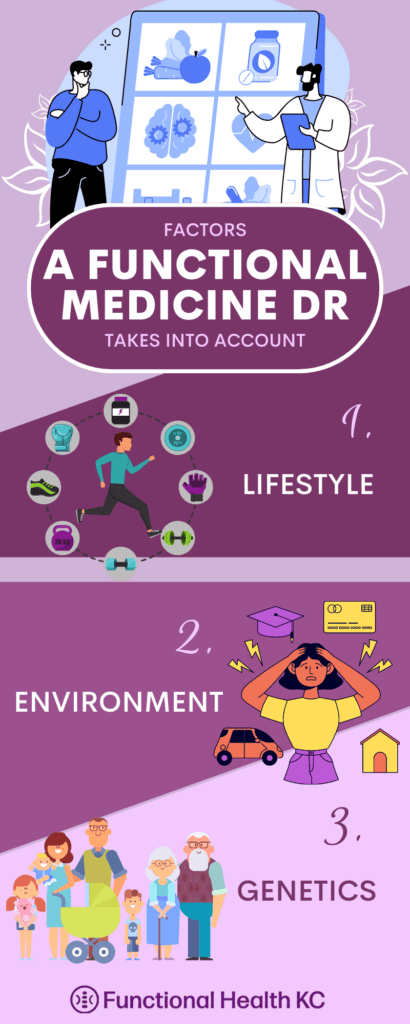 Functional Medicine is often referred to as the "medicine of the future" because it takes a more patient-centered approach to healthcare, which is much needed in the 21st century. The traditional disease-centered focus of medical practice is shifting to this new, more holistic approach that looks at the whole person. By taking into account a person's lifestyle, environment, and genetics, Functional Medicine practitioners are able to create a unique plan of care that is much more tailored to the individual.
Functional Medicine is slowly but surely becoming the new standard in healthcare, and it is clear that this approach is here to stay.
What does a care plan look like for an average patient going to a functional health doctor?
At a Functional Medicine office, it's not about prescribing conventional medicine to deal with the immediate symptoms but looking into the root of the problem. Patients can expect to spend more time talking to their doctors about their medical and family histories and are empowered to take an active role in their health.
With the rise of chronic diseases such as diabetes, cancer, and heart disease, Functional Medicine moves away from the traditional acute-care approach by incorporating the latest in genetic science, specialized testing not available at your traditional doctor's office, and most importantly, understanding how environmental and lifestyle factors influence the emergence and progression of the disease. The idea is to move away from putting a temporary patch on the problem, and instead focus on treating the entire human organism to spread health and vitality through an integrative medicine approach that includes diet and exercise.
The treatments at Functional Health KC are all-natural, using only vitamins, minerals, and specialized supplements. There are no synthetic prescription medications here! Plus, we offer chiropractic care and acupuncture to give you a variety of options for the care of gut health, hormonal imbalance, menopause, PMS, brain fog, fatigue, insomnia, anxiety, depression, sports performance and more.
In a nutshell, the goal is for patients to look and feel ten years younger while practicing prevention to avoid future diseases.
Anti-Aging and Hormone Treatments With a Functional Medicine Doctor in Overland Park
Anti-aging and hormone treatments have become increasingly popular. As functional health doctors in Overland Park, we are able to help through testing and offering an integrative approach, which could be through supplements, chiropractic care, acupuncture, and other active treatment options. 
The study of hormones is complicated and requires extensive training because altering hormones will trigger reactions in the body and also change other hormones. Nothing to be scared of, as long as you are working with a board-certified doctor, which is exactly what you are getting with Dr Melinda from Functional Health KC.
In order to be truly healthy, one needs to be hormonally balanced throughout their life. Hormone production diminishes as people start aging, which can lead to a number of health problems. The treatment is, also, available to younger adults who might have an imbalance. 
If you're struggling with chronic illness or just want to stay ahead of the game, functional medicine is worth considering. Hormone balance is only one part of what these practices do. Mine has helped patients with everything from fibromyalgia and connective tissue disorders to weight and stomach issues. Contact us today and schedule a consultation.